1. AhnLab Consulting Services
AhnLab, the only information protection consulting company designated by the Ministry of Information and Communication among antivirus solution vendors, provides high quality consulting services. As the most reliable security partner, we offer plans for your network by checking the security vulnerabilities through ASEM (AhnLab Security Engineering Methodology) and ASAC (AhnLab Security Audit Consulting).
We have fulfilled customer satisfaction through our consulting services based on antivirus and security technology. In addition, network-based technology and information accumulated from consulting are reflected in the development of our integrated security solution. We also develop products that lead the market and guarantee competitiveness in the global markets.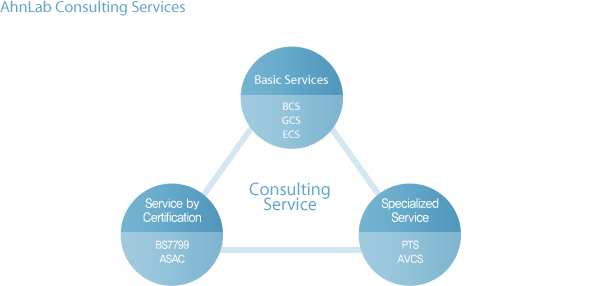 2. Features & Strengths
AhnLab offers enterprise consulting services designed to safeguard the critical information of an organization. The process which is authorized by the Korean government involves performing a comprehensive analysis on existing information protection schemes, identifying security threats, and designing effective countermeasures.
Experts with industry-leading knowledge and experience

AhnLab's Security Consulting Team is comprised of information-security experts, with extensive experience in both the academic and private sectors. Team members are actively involved in building security systems for companies, including policy design, threat detection, and simulated attack.

Proven security consulting methodology (ASEM)

AhnLab's proprietary ASEM (AhnLab Security Engineering Methodology) is recognized and respected throughout the information security industry. The ASEM yields practical and efficient countermeasures through its use of systematic and scientific processes, based on comprehensive analysis.

Superior services based on proven solutions

AhnLab's security consulting services enable organizations to proactively safeguard critical information utilizing AhnLab enterprise security products. Expert consultants implement optimum security architectures utilizing the correct AhnLab products at the client, server, and network levels.

Unparalleled Services

AhnLab's processes for security implementation, client training, and continuous customer support ensure cost-savings through targeted and customized solutions. Furthermore, AhnLab guarantees customer satisfaction for all consulting services and end-point products.
3. AhnLab Security Engineering Methodology)
ASEM, a proprietary methodology developed by AhnLab, ASEM utilizes systematic and scientific approaches in risk analysis and organizational policy development. ASEM is subdivided into four major phases:
Planning
Risk Analysis
Policy Creation
Managed Implementation
Each major phase is comprised of well-defined sub-processes, allowing ASEM to provide a detailed approach from initial assessment to project management to final deployment